Welcome to those of you stopping by on the Disney Blog Hop, sponsored by
Babes in Disneyland Blog
! Today's theme is "Disney Firsts."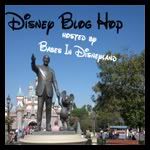 On my trip to Orlando a few weeks ago, I stayed "Off-Property" for the first time...Yep, OK, I said it...I stayed off-property.
I was invited down to Orlando by my new sponsors at
Bahama Bay
and
Caribe Cove
Resorts to attend a Social Media Party showcasing their beautiful luxury villa properties. I'll admit I was a little nervous about staying off-property until I realized how close the resorts are located to Walt Disney World... right around 10 minutes in traffic! Not too shabby! I'll admit it: I was thoroughly impressed!
I arrived at Caribe Cove Resort with only about an hour to spare before the 50's themed Social Media Party was to begin at Bahama Bay, a sister resort conveniently located right around the corner. I was amazed at the friendliness of the front-desk clerks who checked me in seamlessly without a hitch.
I was directed to my villa which was located on the 4th floor of building 2 which was right next to the entrance gate. I was thrilled that there was ample parking too, even for our over-sized Ford F-250.
Our villa was a 3 BR/2 BA floor plan with a full kitchen and laundry room. The spacious accommodation featured upscale furnishings and large screened in porches with patio furniture. The cleanliness of the rooms was also a major plus!
The tropical oasis theme at Caribe Cove is evident in the island-inspired decor and landscape. The atmosphere at Caribe Cove is laid back, quiet, and family oriented while maintaining an upscale ambiance. The property and grounds are clean and well maintained.
Although I was too busy to use the amenities, Caribe Cove has a gorgeous heated infinity-edge pool overlooking a serene lily pond, hot tub, sauna, gift shop, and they'll even schedule an in-room massage for ya!
So in closing, I survived this "Disney First": Staying Off-Property and am pleased to recommend Caribe Cove to those looking for Disney Area Luxury Villa Accommodations.
Disclosure: I received complimentary accommodations at Caribe Cove, a DGTG sponsor. All opinions is this post are mine! I was not asked or encouraged to write this post, but enjoyed my stay at Caribe Cove and wanted to share my experience with my readers since the topic fit in perfectly with this week's Blog Hop Theme!