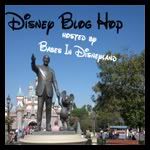 Welcome to those of you joining me from this week's Disney Blog Hop! Thanks to THE Disneyland Mom for hosting! Please stop by her blog Babes in Disneyland each

Thursday

to join in on the fun!
I am always excited to participate in the Disney Blog Hop, but I'm SUPER excited this week because we were asked to write about one of my favorite topics: FOOD!!! Since I commonly post
reviews of Disney Restaurants
, I though it would be fun to post a a Disney recipe for you to make at
home!
One of my favorite desserts in all of WDW is the English Trifle at the Grand Floridian's Garden View Tea Room! This traditional English dessert is served during Afternoon Tea and is absolutely decadent, to say the least and now you can enjoy it at home!


This is a traditional English recipe, and one that my family has made for generations. The first time I tried the Trifle at the Garden View Tea Room, I was surprised with just how close to Gramma's it really was! This dessert is smooth, creamy, fruity, and delicious and consists of spongy, sherry-soaked cake topped with fresh berries, custard, and rich whipped cream. The portion at the Garden View Tea Room is gargantuan, but so yummy that no matter how full you may be, you'll be licking your bowl.

To read my review of the Garden View Tea Room click here!

For my review of Disney's Grand Floridian Click here!
Ingredients
1 (9 inch) sponge cake, cut in cubes
1/4 cup Cream Sherry
1 cup seedless raspberry jam
8 ounces fresh strawberries sliced
10 fluid ounces heavy cream
3 egg yolks
3 tablespoons white sugar
10 fluid ounces heavy cream
Directions
Soak cake pieces in Sherry. Spread a little jam on each piece of cake and place in the bottom of a large glass bowl. Sprinkle strawberries over cake.

Heat 10 fl. oz. cream in a medium saucepan over medium heat. While the cream is heating, beat the egg yolks with the sugar until pale yellow and smooth. Strain yolk mixture into a clean bowl. Pour hot cream into egg yolks and stir vigorously. Return mixture to pan over low heat and cook, stirring, until thick enough to coat the back of a metal spoon. Remove from heat and allow to cool.

While custard is cooling, whip 10 fl oz. cream until soft peaks form. Place almonds on a baking sheet and toast, in a 300 degree oven or toaster oven, stirring frequently, until golden, 2 to 10 minutes.

Spread cooled custard over cake in bowl. Top with whipped cream. Chill 2 hours before serving.