Good, The Bad, and the Ugly" ...I'm a little late writing this post, but better late than never, right!? I found this topic difficult to write on, since I have a hard time finding anything other than "Good" when it comes to my beloved Disney!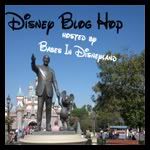 If you have a Disney related blog, hop over on Thursdays to join in the fun!
I put on my "Thinking Ears" and thought about this all last night before coming up with a post idea. One of the best nights I have EVER had took place last New Year's Eve! My crew and I were scheduled to arrive at WDW on January 2nd, my birthday, but decided to extend our stay by arriving on the 30th of December. Everyone knows that Disney is CRAZY and INSANELY crowded during New Year's, so I was not surprised that every resort was booked, leaving us no choice but to stay off property until our official check-in date.
After a delicious dinner, we decided to post up for the New Year's fireworks show and decided that the Contemporary Resort would be a great fireworks viewing vantage point. After being denied entry to Grand Floridian and Polynesian, we started to panic. It was already after 11 and I was beginning to doubt we would be seeing the fireworks on this evening. Hoping for one final chance, we drove over to Fort Wilderness, stated we were going to the Marina and were waved through! We parked, and hopped a bus to the Settlement. From there, we boarded a boat launch to the Contemporary. We were thrilled with how well the timing worked out, as we were arriving at the Contemporary Marina at 11:30pm. We noticed that people were already starting to gather outside and in the lobby in anticipation of the show, so we hurried up to the breezeway to Bay Lake Tower. Unbelievable, we were the only ones on the "bridge."
I could look over to my left slightly upwards to see the CROWDED observation deck of California Grill, and directly in front of me, Cinderella Castle, Space Mountain, and Astro Orbiter... I mean DIRECTLY in front of me... seemed like eye level! By now, Bella had fallen asleep, all cozy in her stroller, leaving us adults to ring in the New Year together!
At about 10 minutes to midnight, the first bursts began to explode in the night's sky... but to my surprise, each the same shots were going off in several areas, but from where we were standing, we could see them all, at what seemed to be eye level... Disney Fireworks as far as the eye could see. We had found the PERFECT viewing spot and felt that we were watching a private show!
The Look on my Face says it all!
As the clock rounded midnight, something happened that I never knew was possible... The fireworks actually drew out the numbers in the countdown..."10, 9, 8....5,4,3,2,1" then "2011"!!! And we could see this from every angle... to the left, right, in front, and behind.... words cannot describe this experience! Imagine "Wishes" times 10.
Teary-eyed and feeling touched by the magic, we headed back to the Marina to catch a boat back to Fort Wilderness... The lines were outrageous. We waited for what seemed like an eternity until finally it seemed as if we might catch the next boat. We moved up in line as guests filled the boat and realized that only half of our group would fit on the boat. We told the captain that we would just catch the next one and to my horror, he said "This will be the last boat tonight" WHAT??? How could this be? It was only 1:30and the sign clearly stated that boats will run until 2... No problem.... Um.... We'll just catch a taxi!
When ran back to the front of the Contemporary to catch a cab, but realized there were at least 15 groups in front of us who had been behind us in the boat line... and to make matters worse, it was New Year's Eve and there were NO cabs to be found. The time in between arriving taxis was 15 minutes and Disney Buses weren't running. We were stranded. Tried to book a room at the Contemporary... NO vacancy! AAAHHH! We finally caught a cab...HOURS later!

Notice there is not a Cab or Bus to be found...Eerie

It's funny though, looking back on it. We ended up having a really great time, despite the wait and now we can look back on it and laugh! The Cast Members at the Valet Desk were a hoot and made the wait painless! All in all it was still the best night EVER!!!
On our last trip back in March, one of the same Cast Members was working again, and to my surprise, he recognized me and joked around with us again! This is one clear reason why I LOVE Disney! Despite the circumstances, the Disney Difference always shines through!